Ice and Fruit Cream Bowls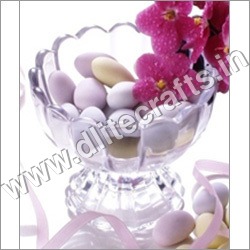 Ice and Fruit Cream Bowls
Product Description
We are the leading manufacturer of the best tableware and that includes the bowls that set the standard and style of your dining table. To add aesthetic value to your table top, you can get these ice and fruit cream bowls which have been designed in the most beautiful manner to add elegance to your dining experience. Made from the finest quality glass material, you will experience the best with our products. Order in bulk from our site today.
Features
.
Traditional designs
Aesthetically excellent
Affordable prices
Durable
Other Details
Code: GT-06
Max In Dia Cm: 8.5
Height In Cm: 3
MOQ In Pcs: 7.5
Description: We offer an impeccable range of tableware including a Glassware for ice and fruit cream, a Glassware for multi-punch and a Dish of glass for snacks.
All these are made out of finest glasses and ensure quality.